Chin Swee Vegetarian Cuisine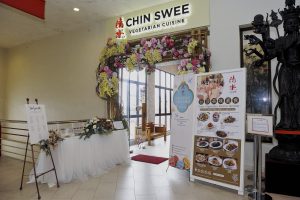 Chin Swee Vegetarian Cuisine is perched atop a mountain ledge offering a magnificent view of the surrounding countryside. It is the one and only vegetarian restaurant in Genting Highlands. The temple itself has rooms for stay-in. This serene spot is suitable for indulging in meditation, contemplation, sightseeing and dining on vegetarian food in a cosy atmosphere.
The mood is set for a memorable culinary adventure as you enter Chin Swee Vegetarian Cuisine that is decorated in the best of Chinese tradition. The cool natural air flow and soothing music pampers your senses as you enjoy your meal. Lush verdant forests are everywhere, bringing you back to nature.
The restaurant enjoys a strategic and convenient location. It is easy accessible by bus and cable car right in front of the temple. Genting Free Shuttle Bus takes passengers every hourly. Ample parking space is available for vehicles. Our own special shuttle van can pick you up from the peak to our restaurant for a FREE round trip. You just need to call in advance for the arrangement.
Our signature dishes cater to the most discerning vegetarian lovers. Diners are spoiled for choice as the wide variety of delicious dishes available. Set meals for groups from 2 to 10 persons are also available. Excellent service by our friendly and courteous staff adds to the dining pleasure.
We cater for
Dine-in
Tour group
Ceremony (wedding, special celebration, Buddhism functions, etc.)